In the last concert of Thames Concerts' 2011, we welcome our associated youth ensemble Thames Youth Orchestra, fresh from a performance in London's Cadogan Hall, for a appropriately summery programme to send everyone off into the holidays.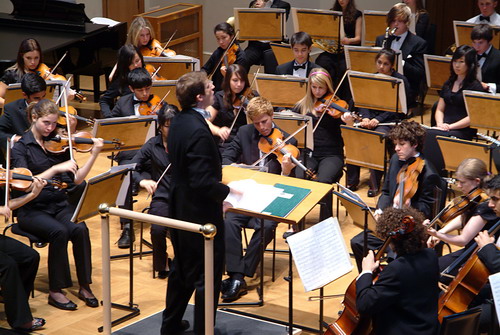 The pieces in this term's programme have a common theme in being pieces commissioned by Serge Diaghilev at the Ballet Russes in Paris in the 1910s/1920s. A hotbed of artistic expression and ideas in the early twentieth century, Paris was the destination of choice for thousands of up-and-coming artists, writers and composers, and the world-renowned Ballet Russes troupe made stars of previously unknown composers such as Igor Stravinsky.
First up is Erik Satie's surreal and energised Parade, a cavalcade of various circus acts and stunt performers, including a Chinese magician, acrobats, and an American dancing girl, scored for an orchestra with a percussion section including air raid sirens, typewriters, tuned glass bottles and "sonorous puddles".
Next is Poulenc's light and frothy suite from his ballet Les biches, inspired by Watteau's drawings of the courtly life of Louis XV. In contrast to the more atonal modernist pieces of the day, Poulenc's score makes use of conventional orchestral forces and a conventional diatonic harmony "with a twist", incorporating added intervals which, while not quite dissonant, still give it something of a modern edge. Poulenc himself described the scenario as a "contemporary drawing room party suffused with an atmosphere of wantonness, which you sense if you are corrupted, but of which an innocent-minded girl would not be conscious".
Finally, the evening concludes with Ottorino Respighi's La boutique fantasque or "The Magic Toy Shop", based on a collection of piano pieces by Rossini. The piece consists of a set of dances of varying moods and flavours, including a French can-can, a Russian cossack dance and an Italian tarantella, all danced by magical dancing dolls (sadly absent from tonight's performance).
ALL SAINTS' CHURCH
MARKET PLACE, KINGSTON KT1 1JP
TICKETS: (all seating unreserved) £10 adults, £5 children/students, £20 family ticket (2 adults + 2 children)
Hands Music, Kingston
www.ticketweb.co.uk
07984 417 278 (automated ticket hotline)