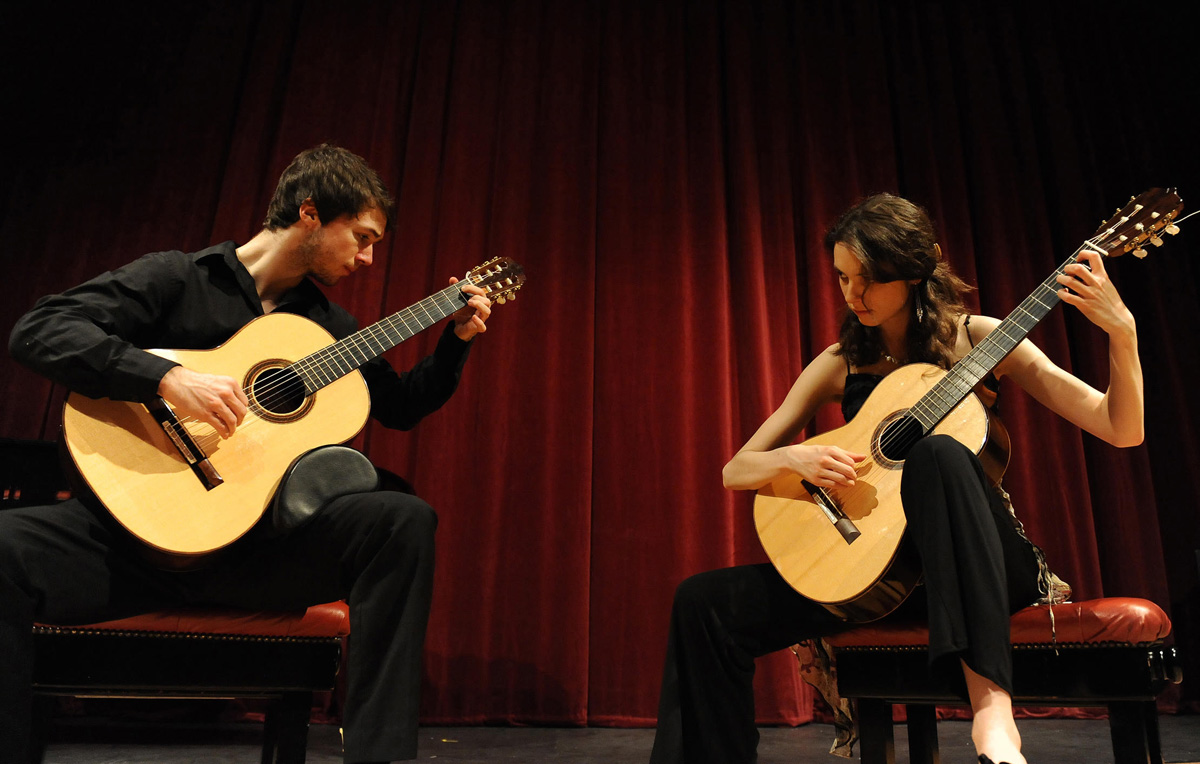 Laura Snowden and Tom Ellis (guitar duo)
Prize-winning young performers Laura and Tom perform an intimate mix of solo and duet repertoire.
3 Fantasias – John Dowland
Excerpts from Violin Sonata in G minor (arranged for guitar) BWV 1001 – Johann Sebastian Bach
4 Pièces espagnoles – Manuel de Falla
Córdoba from 'Cantos de España', arranged for guitars Op 232 – Isaac Albéniz
Asturias – Isaac Albéniz
Usher Waltz – Nikita Koshkin
Excerpts, from Ma mère l'oye, 'Mother Goose' – Maurice Ravel
Il tempo che fu in pensiero in gioia – Carlo Domeniconi
Variazioni concertanti Op 130 – Mauro Guiliani
Tickets on the door £12 (or at a discount via Ticketweb)
Tickets for all concerts may be purchased in advance from Ticketweb at around a 10% discount. On-line and by phone: www.ticketweb.co.uk / 08444 771 000.
Tickets are not sent out for events. Audience members should bring email confirmation/I.D. to the event.
In person: on the door at each event from 6.30pm (full price cash/cheque).
For all concerts admission is free to under-16s and full-time students (subject to availability). Identification may be requested but tickets are not required.
An individual great value season ticket gaining entry to all concerts costs just £60 and can be purchased directly from Thames Concerts by emailing moc.strecnocsemahtnull@ofni.
St Andrew's Church is wheelchair accessible and accompanying carers are admitted free (carer tickets not required).
It is not necessary to book tickets for the morning concerts on 17th October, 19th December and 20th February, as admission is free, but voluntary donations are gratefully accepted.
10% off on your concert day at the following local establishments:
(Show your ticket/email/programme to staff)
The Surbiton Flyer 84 Victoria Road, Surbiton, Surrey KT6 4NS
Gordon Bennett! 75 Maple Rd, Surbiton, Surrey KT6 4AG
Excellar 18-20 Brighton Road, Surbiton, Surrey KT6 5PQ
Joy Tandoori 37 Brighton Road, Surbiton KT6 5LR